Bergsteigerschule Watzmann
Highlights am Watzmann mit der Bergsteigerschule Watzmann und den Watzmann Bergführern!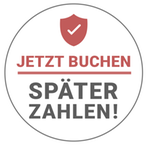 Dein Vorteil & Deine Sicherheit
Zahlungsziel 3 Tage vor Reisebeginn bei gesicherter Durchführung! Gültig seit 15.03.2020
Kostenfreier Reiserücktritt bei Einreiseverbot und/oder behördlicher Quarantäne bei Reisebeginn auf allen Reisen im Alpenraum
Corona Zusatzversicherung auch mit Absicherung für Länder mit Reisewarnung | Im Anschluss nach Reisebestätigung abschließbar
Alpine Kompetenz in Berchtesgaden & am Watzmann
Die Berchtesgadener Bergführer führen Dich auf Bergwanderungen und anspruchsvollen Wegen rund um den Watzmann und den Königssee inmitten des Nationalpark Berchtesgaden. Im Mittelpunkt der Bergtouren im Berchtesgadener Land steht natürlich der Watzmann mit all seinen Spielarten, ob E-Bike and Climb, der beliebte Grünstein Klettersteig, oder die klassischen Wege durch die berühmte Watzmann Ostwand. In der Wanderakademie finden Einsteiger mit einem "Ready to Go" Kurs der Wanderakademie den passenden Einstieg in die Bergwelt. Mit einem unserer örtlichen Bergführer bist Du am Watzmann gut aufgehoben. BERGFÜHREN ist in Berchtesgaden Tradition und Leidenschaft. Der Watzmann ist unser Hausberg!
Last Minute am Watzmann
Schnapp Dir noch schnell einen Platz mit den Watzmannführern!
19.02. - 20.02.2022
Noch 1 Platz frei
26.02. - 27.02.2022
Nahezu ausgebucht
Berggeschehen | Neues | Hintergrund
Kurznachrichten aus den Bergen
Gutschein verschenken
Passend zu allen Anlässen. Verschenke Erlebnisse mit Bergführer!
#magazin
Reiseberichte, Inspirationen, Abenteuer, Berge und vieles mehr,...
Corona Sicherheit & Hygienekonzept
#4 | Seitwärts Abschneiden mit Kompass
Anpeilen eines bekannten Geländepunktes und Schneiden mit einer Höhenlinie, einem Bach, einer Straße oder einem Grat. So kann der eigene Standpunkt einfach bestimmt werden.
#3 | Rückwärts Einschneiden mit Kompass
Mit dieser Technik können zwei oder mehrere bekannte Ziele angepeilt werden und so der eigene Standort bestimmt werden.
#2 | Vorwärts Einschneiden mit Kompass
Vorwärts Einschneiden mit dem Kompass, um ein unbekanntes Geländemerkmal, wie z. B. einen Gipfel, zu bestimmen. Diese Technik funktioniert nur, wenn der eigene Standort bekannt ist.
#KENNSTDUSCHON ... die Alpenüberquerung von Salzburg nach Triest
#socialwall
#deinabenteuerbeginnt #alpineweltenfamilie #watzmannführer
Wandern im Berchtesgadener Land
Bergsteigen am Watzmann | Bergurlaub am Königssee
Die Bergführer & Bergwanderführer der Bergsteigerschule Watzmann kennen jeden Stock und Stein im Nationalpark Berchtesgaden. Auf geführten Wanderungen begleiten wir Dich beim Wandern rund um Berchtesgaden und zeigen Dir die schönsten Plätze zwischen Steinernem Meer - Königssee und unserem Wahrzeichen, dem Watzmann. Krönung unseres Wanderprogramms ist sicher die Alpenüberquerung vom Watzmann zu den Drei Zinnen. Von Nord nach Süd überqueren wir dabei die Alpen zu Fuß. Unsere Alpenüberquerung von Salzburg nach Triest ist ein Geheimtipp.
Ob es nun eine komfortable Wanderung mit Hotelstützpunkt oder eine Hüttenwanderung rund um den Königssees sein soll, entscheidest Du mit Deiner Wahl.
Höhere und anspruchsvollere Ziele für Bergsteiger wie z.B. die Watzmannüberschreitung oder die Watzmann Ostwand sind unser tägliches Brot. Als lokale Bergschule am Königssee kennen wir die Verhältnisse tagaktuell und können flexibel auf alle Eventualitäten reagieren.
Im Kursbereich erfreuen sich unsere Kletterkurse und Klettersteigkurse großer Beliebtheit. Die komfortable Unterbringung im klimaneutralen Explorer Hotel rundet jeden Ausbildungstag am Klettersteig angenehm ab. Hoch oben im Gebirge dient unsere Blaueishütte als Hüttenstützpunkt für Kletterkurse am Fels. Das Blaueis bietet einen idealen Stützpunkt für Einsteiger und Fortgeschrittene, die ihre ersten Schritte in der Vertikalen unternehmen, oder in alpinen Mehrseillängen sattelfester werden möchten.
Der Winter hat auch rund um den Königssee viel zu bieten. Schneeschuhwanderungen und Skitourenkurse laden zum Verweilen im Berchtesgadener Land ein. Selbst bei schlechtem Wetter bietet unsere Region dann eine Fülle von Alternativen. Mit dem Besuch im Salzbergwerk sogar unter Tage.